UNIQUE TATTOO REMOVAL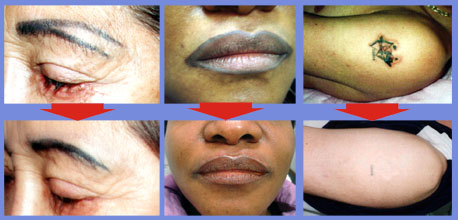 Tattoos and permanent make-up are extremely inert, insoluble pigments buried in the inner layer of the skin, and as such, are very difficult to remove by any detergent or solvent. Surgical removal or laser treatment is very costly and may have a number of undesirable side effects, such as incomplete color removal, scarring and skin depigmentation. European Commission conducted study & research (May 2003) which has revealed that Laser Tattoo Removal may affect body immune system, lead allergic skin reaction and even produce carcinogenic substances - view

Rejuvi Tattoo Remover utilizes an unique chemical extraction mechanism to soften the tattoo pigments that gradually move to the skin surface. Rejuvi Tattoo Removal is non-color selective (applicable to all tattoo colors), effective, less scarring and much less expensive. If properly applied, only one treatment is needed for removal of Permanent Makeup. However, 2-6 treatments are needed for body tattoo removal with miminal scarring risk. The time required for a treatment depends upon the removal area. The Patented Round 52 needle set (2012) provides a greater safety and speed for body tattoo removal and it is compatible to both coil tattoo machine and rotary tattoo machines.

The treated area will initially experience erythema (redness), which will gradually diminish, leaving the skin perfectly normal. Rejuvi Tattoo Removal is effective for both body tattoos and permanent makeup, except for those in the delicate eye area. However, Rejuvi Tattoo Removal requires tattooing or permanent makeup experience because it uses tattoo-over procedures.
In U.S. Market, Esthetician license plus Micropigmentation Training Certificate, tattooing business license or medical license is required to purchase Rejuvi Tattoo Removal products. .In addiiton, the Purchase Release form must be signed - view. For initial purchase Rejuvi Tattoo Removal kit must be purchased (contains 1 Tattoo Remover, 1 numbing Solution and 1 aftercare Cream).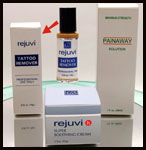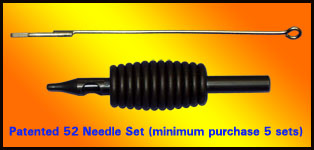 The Rejuvi Tattoo Removal Treatment insurance is also available in U.S. market:
1) PROFESSIONAL PROGRAM INSURANCE BROKERAGE
Phone: (415)475-4300; Fax: (415)475-4303 Website:www.tattoo-ins.com

2) ISU INSURANCE SERVICES OF WESTLAKE
Phone (800) 821-9161; Fax: (805) 409-2881 Website: www.isuwestlake.com/tattoo_insurance/
3) ZEM INSURANE SOLUTION Phone: (888)210-9641; Fax: (888)210-9642 Email: kzem@zeminsurance.com; www..zeminsurance.com

Certified U.S. Rejuvi Tattoo Removal Trainers available. Please contact them directly for individual training (Rejuvi Training Certificate signed by these trainers will be provided afterwards) View

Ms. Diane Warren - 720 S Dixie Hwy #1 Lantana, FL 33462 and 410 E Main Street Battle Ground, WA 98604
Tel: (360)936-7380; E-mail: diane.finelines@gmail.com; website: www.finelinespc.com

Ms. Shelley Todd - 1315 Hot Springs Way #101 Vista, CA 92081 (located in New U Rejuvination Center)
Tel: (760)809-3881; E-mail: shelleytodd@cox.net ; website:www.shelleytodd.net

Ms. Anna Ishutina - 3049 Brighton 6 Str., Brooklyn, NY, 11235 and 545 5 Avenue, New York, NY 10017 Tel :(347)922-6310 E-mail: tianpermanentmakeup@gmail.com Website: www.tianpermanentmakeup.com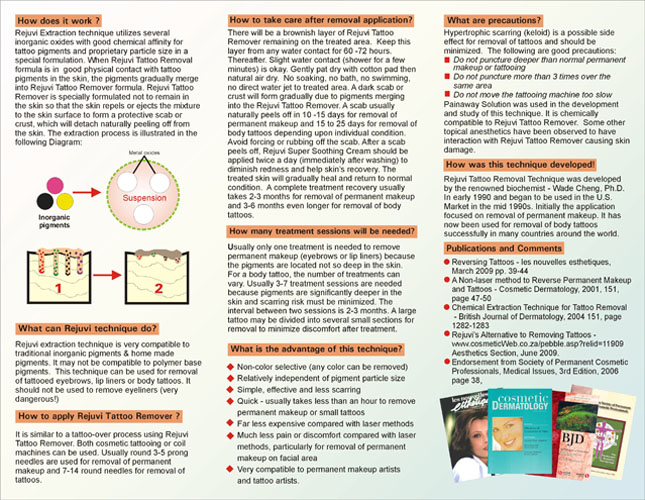 Major Publications for Rejuvi Tattoo Removal technique:

1) "REVERSING TATTOOS", les nouvelles Esthetiques, (American Edition) , 39-44, (March 1997). view

2) "Correccion Y Remocion De Deleaneado Permanente. Un Metodo Seguro Y Efectivo", ("Correction and Removal of Permanent Makeup - a safe and effective method") EncuentroHispanoamericano, Cosmetcica Medica #39, 21, (February 2000) Spanish view

3) "A Non-laser Method to Reverse Permanent Makeup and Tattoos", Cosmetic Dermatology, Vol. 14, number 14, 47-50 (April 2001). view

4) "A Non-laser Method to Reverse Permanent Makeup and Tattoos", PCI Journal, Vol. 9, No. 5, 8. (2001) view

5) "CHEMICAL EXTRACTION TECHNIQUE FOR TATTOO REMOVAL", British Journal of Dermatology, 151, 1272-1288 (December 2004) view

6) Rejuvi's Successful Alternative to Removing Tattoos", CosmeticWeb 2008-2009. http://www.cosmeticweb.co.za/pebble.asp?relid=11909&t=153 view

7) "A New Technique for Erasing Tattoos", Pain Magazine, October 2009 (page 50) view

8) "A New Dimension for Erasing Tattoos" Tattoo Guru Studio magazine, December 2009 Page 50 view
Endorsement from The Society of Permanent Cosmetic Professionals (The largest U.S. Micropigmentataion Asscoiation with over 7000 members) 3rd Edition 2010 Page 38:

"Rejuvi Tattoo Remover does not cause scarring or hypo-pigmentation if properly used. It is an effexctive simple safe and quick method of tattoo removal and correction of permanent makeup. ... Rejuvi Tattoo Removal has a very high success rate for permanent makeup and a good success rate for body tattoos that are located deep in mid-dermis.".
(download large file, takes some time, please be patient !)